Z square residency is a budget lodging option at Iritty town, in Kannur district, Kerala. 
The hotel is a mere 5-minute walk from the Iritty bus stand and is located along the Iritty-Mattannur main road (Towards Kannur side). The hotel is just 20 km from the newly opened Kannur International Airport. 
My stay at Z square residency:
I stayed at Z square residency during my trip to Aralam Wildlife Sanctuary, along with 4 other of my friends. During our stay, the hotel was with near-zero occupancy and hence the Manager was gracious enough to accommodate all 5 of us in an Air-conditioned suite room which had 3 beds, one King size bed, and two single bed. He charged a mere 2500 for the stay (making it 500/head for us). We checked in by 4 PM and checked out next day 10 PM, making it a 30-hour stay. The hotel did not charge us anything extra for the additional 6 hours, possibly because there was no other booking. The manger even made arrangements for an auto to pick up us next day early morning for our trip to Arlam and was kind enough to make tea and serve us at 5 AM in the morning! 
Z square residency is a relatively new hotel (Started in 2018 according to the manager), has 4 floors with a fast food restaurant in the ground floor along with the reception and rooms in the remaining 3 floors. From the look of it, the hotel has the features of a 2-star hotel, though I am unsure about any actual star rating the hotel have. The hotel is opposite to the State Bank of India Iritty branch. The building was well maintained, clean and hygienic.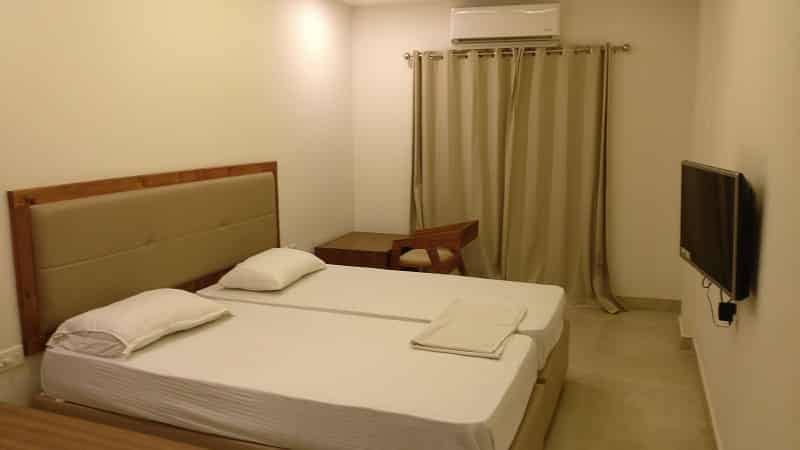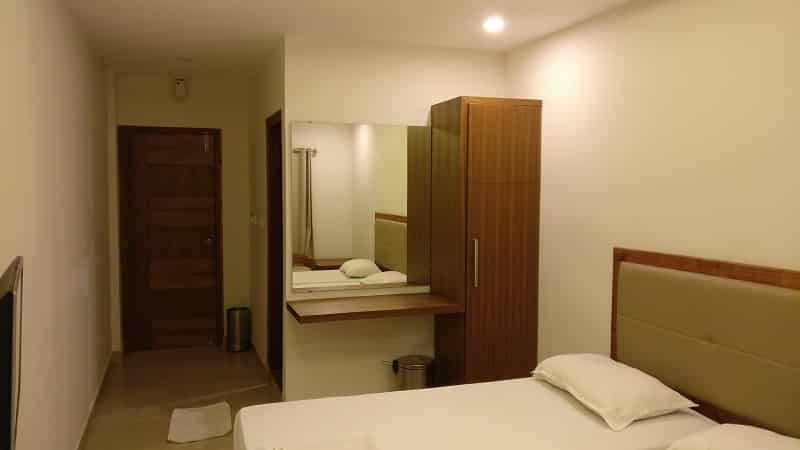 Facilities at Z square residency:
When we checked in, the room did not have any toiletries commonly seen in premium hotels. The manager gave us 5 soaps and 5 bath towels upon arrival. Other toiletries like Shampoo, toothpaste and brush and were all not there, but we did not ask either. We did not check if Wi-Fi was available as we were all happy with Ji, but I doubt if the hotel has WiFi as the reception was not even having a computer. There is no Gym, Spa or any other such facilities. 
The room we got was really spacious, the AC was working well, the TV and cable was also working fine. Almost all channels were available including Sports and English movie channels. The bathrooms were clean and well maintained though the plumbing had some issues. I even got to have a look at their standard double bed rooms and that room were also spacious enough and well maintained. 
For now, the hotel is available for booking through Goibibo, though only Non-AC rooms are available for booking. IF you are looking for AC rooms,  I would suggest you to either call up the hotel and book via phone or book online for a Non-AC room and then upgrade after reaching the hotel by paying directly at the property. The hotel also has a basic website, though no much content is present. 
When I visited the place, there was no room service option available. There is a fast food joint at the ground floor and I am sure on enquiring the reception, they would be happy to take orders. There are good hotels around the hotel and hence getting good food will not be an issue. There are even local "thattukada" which becomes active by evening (around 7 until 11) where you can find delicious local food. However, if you are a little over hygiene conscious, then its better you stay out of local eateries.   
The Aralam Wildlife sanctuary is a great place to visit if you are a nature enthusiast. Another nearby place of tourist attraction is the Pazhassi Dam. See below a short video on my trip to Aralam Wildlife Sanctuary.