It was half-past eleven on Friday the Feb 9th and my friends-n-colleagues Arjun, Abhijith, and Sourath were busy winding up their tasks for the day. Reply to Emails? Check. Update Redmine with tasks? Check. Assign work to the team? Check. In twenty minutes, we are scheduled to leave for Scotland, not the European destination though, but the one in India! After weeks of meticulous planning (Yes, planned trips do happen contrary to popular belief!), we were all set to break free from the shackles of monotonous work and escape to the wilderness and comfort of "Honeyvalley Homestay" in the Coorg valley, including a trek to Mt. Tadiandamol, the third highest peak in Karnataka.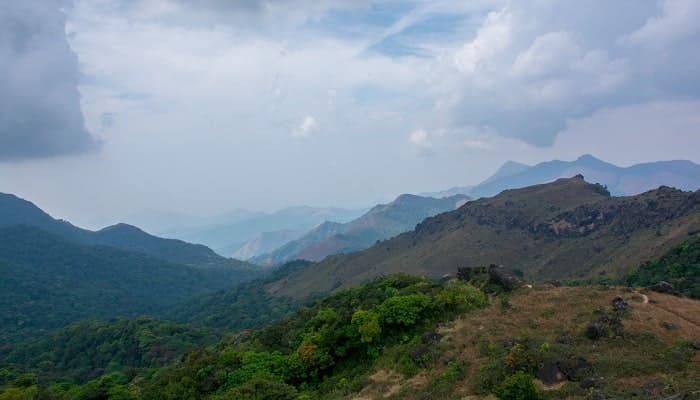 Leaving the corporate baggage behind and picking the travel bag, we left our office by noon and headed to KSRTC bus station to catch the bus to Virajpet which leaves by 1 PM. The comfort of the bus made us all "Sleep like a baby" in no time, only to be interrupted by a tea break at Maddur (famous for its Maddur Vada) by 3 O clock, and around 5 in the evening, we had passed Mysore. An hour later, the bus entered the Nagarhole National Park section and the sudden change of scenery from concrete buildings and barren land to mud huts and trees all around in itself was refreshing and a precursor to the world we were headed to! As if taken right out of a Bollywood movie scene, it started to rain heavily all of a sudden, water droplets drizzled down the glass windows creating a foggy layer and the sight of dark clouds over the forest and the illusion of trees moving backward and all brought back my memories of Monsoon In Kerala and a "Rain journey" I took almost a year ago!
By 7 30 PM, we reached Virajpet, the final stop for our bus, and the homestay near Tadiandamol is another 23 km from there. We all were very hungry by then and our gaze immediately fell on a Kerala restaurant near the bus stand and in no time we were gobbling delicious Chicken Biriyani (Abhijith, a pure Vegetarian, settled for "Chicken Biriyani minus the Chicken")! By the time we finished dinner, it was around 8 PM and no local buses were available then to Kabanikkad junction ( The nearest bus stop to Honeyvalley) but luckily, an auto driver agreed to drop us there at a surprisingly cheap rate of 400 rs for all four of us! The night was cold with freezing wind gusting through us and we were taken through roads that were deserted and pitch dark apart from the dimly lit headlight and for a second we were worried if the Auto driver were abducting us! Finally, after 40 minutes of tuk-tuk ride, we were dropped at Kabanikkad Junction and the auto disappeared into the darkness, leaving us stranded with no one except for two stray dogs staring and howling at us from a distance.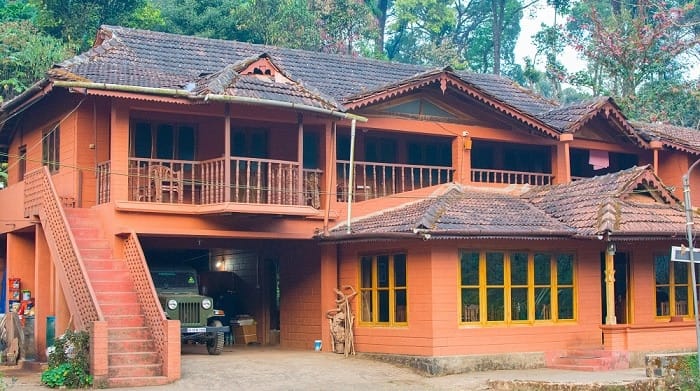 Honeyvalley Homestay is located at the base of Mt. Tadiandamol which is another 4 km uphill from the main road and the only mode of transportation is their 4X4 Jeeps which will come to pick you (Or you can walk, but you are sure gonna get lost, especially at night!). While we were waiting for the pickup Jeep, Abhijith was the first one to look up to the Sky and let out a small cry! We all looked up, anticipating a UFO, but what we saw was the night sky in its complete glory with thousands of stars smiling at us and small patches of clouds drifting across! I have never seen the night sky so crystal clear (except in North Sikkim) and the more you look up, the more you drown into infinity. Our stargazing was interrupted by the honking of our pick-up jeep and soon we were on-board the Mahindra Thar for the drive up to Honeyvalley.
The drive from KB Jn to the Homestay in itself is an experience worth remembering. Narrow path with scary turns and high inclines that gives butterflies in your stomach along with fast driving by the driver gives you a roller coaster experience! By the time you cover the four KM, you will be happy that the Goa trip you always planned to get a nice body massage never happened, as every cell of your body by then would have got enough workout! Anyway, at Honeyvalley, we were welcomed by our gracious host, the Chengappa family and after a brief introduction to each other, we were taken to our rooms, which were few meters down from their home/reception.
Built on traditional south Indian style, our rooms resembled how our ancestral homes were there back in Kerala. The rooms had a common courtyard, earthen floor, clay tile roofing with glass slits for natural light to fall in, they were minimally furnished with a small wooden almirah and a water jug on top of it. The walls had many moths resting on it, and the sound of crickets was all that we could hear from the room. We couldn't see anything beyond the courtyard as it was very dark, but we could sense serenity in front of us! We all unpacked, freshened up and then went early to bed as we had to go for the Tadiandamol trek, one of the famous and excruciating treks in Karnataka.
We woke up by around 5 AM as we had a short warm-up walk planned to a nearby hilltop within the homestay premises, just to get our body accustomed for the main trek to Tadiandamol. We stared the walk by around 6 AM and one of the dogs at the homestay accompanied us all the way and even guided us on which path to take forward! The sight of sunrise from the hilltop was as majestic as it could be and by the time we finished basking in the sun and taking some candid pics, Abhijith reminded us that breakfast time is fast approaching!  Breakfast was something we did not want to miss at any cost as we have a tiring trek coming up, and hence, with the dog, we returned to our rooms, got ready quickly and reached the breakfast hall along with our trekking and photography gears.
The place offers buffet breakfast system with both South Indian and Western breakfast delicacies. They have a different menu each day and the food was really tasty and filling! Most of the raw materials for food are grown organically in their vast farms and hence even the food at the place has freshness and purity written all over it. After a heavy breakfast, we filled water on every available bottle with us and we were all set to start our trek.
The homestay had arranged their jeep to drop us to the trekking start point (which is another 8km from the homestay) and we were informed that three more people will be joining us in the jeep till the drop point (so that we can share the jeep expense as well), and they turned out to be three gentlewomen from Bengaluru! By the time the Jeep reached the drop point, we had acquainted ourselves and it turns out they are from Kerala as well (The happiness of seeing fellow Malayalees) and working in Bengaluru. Talk about coincidences! We decided to trek together as it would be more fun and practical as we would need to reach back at the drop point at the same time for the return pickup. Thus, our 4 member trek group became 7 now!
After walking a couple of kilometers through a dirt road we reached a spot where a makeshift ticket counter was present and we had to take tickets (10 rs/person) and fill out our contact details to enter into the Tadiandamol trekking trail start point inside the forest. The sun was out in its full ferocity and our water sources were already half empty by the time we reached the ticket counter! There was a pipe which supplied water from an unknown source used by everyone to re-fill their bottles and though reluctantly, we filled our bottles again and resumed our trek! A dog joined us from the ticket counter and a treat with a couple of Parle-G biscuits made sure he was not gonna leave us anytime soon!
As the day progressed, the intensity of heat started to take a toll on our trekking speed.  The trek became more excruciating as the heat was physically and mentally straining us. The number of breaks we took started to increase and the pace of walking started to fall down. The terrain was also becoming more difficult to walk with huge boulders, thorny plants and a narrow trail was all that was ahead of us. We were informed by a "frequent trekker" whom we met at the homestay about a natural water source halfway through the trek where you get pristine water coming directly from the mountains!  A "huge black rock" on the way was given as the identification mark to look for the source, but when we saw the "huge black rock" on our way, all we could see was barren land around with no sign of any water body! Disappointed, we continued our trek with about 50% water left in our bottles and hoping we could survive with the same during the remaining part of the trek.
Every time we see a peak and think we are finally there,  a new peak will emerge from behind and make us walk further up! Meanwhile, we also went through a very scary incident which almost got myself and Arjun killed ( I know, its a little bit exaggerated!).  We had to climb up through an area which has a steep 80 degrees incline and was a few good meters long. The path was very narrow, it was slippery with gravel like soil, no trees or plants for support on either side except for few boulders. This was easily the toughest and dangerous part of the trek. Now, these boulders scattered on either side helped climbers gain balance as well as act as a "waiting point" if someone else is climbing down from the other end as there is no place for two people to go up and down together.
When we were climbing up, I was waiting at a point balancing myself beside a boulder and Arjun was right behind me. A guy was coming down the path and he suddenly lost his balance and started to tumble down (He was overconfident and was trying to get down quickly!). While falling down, in a desperate attempt to regain balance, he grabbed my shirt thinking it would help him regain balance, but I too lost my balance and was about to fall down when heroics from Arjun saved both of us. He grabbed the guy with one hand and blocked me with his body stopping both of us from going down! (Picture a guy hanging in the air holding someone's hand)  Phew! That was a close call! If Arjun too had lost his balance, all three of us will be crashing down with serious injuries.
It was almost 2 PM by the time we reached the Tadiandamol peak and the 360-degree view from the top was serene and scary at the same time! After taking some time to enjoy the view, we set out to have lunch. No, there are no restaurants up there and you have to make your own lunch! The homestay had packed us the "raw materials" to make sandwiches and we also had a couple of white bread we bought the day before and the lady brigade with us was generous enough to make Sandwich for us as well! Making sandwiches from scratch at a height of 5000 ft. should definitely go into personal milestones! After spending some reasonable time at the top, enjoying the view as well as clicking pictures, we started our descent by around 3 PM.
The descent was more relaxing, the lunch definitely helped in refueling us, but the water reserve was almost over! Since we had ample time to get back and the sun had also gone behind clouds, we were enjoying the return a lot more than the first half! Arjun played some great music from his collection through the portable speakers we brought and walking with singing in the middle of nowhere was a great experience.
On our way back, we once again reached the spot which was supposed to be the source of natural water. This time, we decided to explore the area in detail to find out if had missed something before! Sourath, using his extrasensory auditory powers told us that he could hear a faint sound of flowing water from somewhere nearby. We all stood in dead silence and listened for ourselves, and yes, indeed we could hear water flowing from somewhere!
There was a trail which was a detour from the original route which looked heading towards a forest cover, some 100 meters away from where we were standing. We decided to take that path and once we reached the start of forest cover, we noticed that the trail is still there, this time going inside the thick cover of trees!  As if we were discovering a new land as shown in Disney animation movies, few meters into the forest, we reached a world that was in stark contrast to the path we were walking all the while! We could hear birds chirping, feel cool air around us, green towering trees everywhere and in the middle of all of this: A small waterfall!
Though summer had drained out most of the water, the spring still had enough water to maintain a steady flow! We were quick to refill our bottles and then wash our face with the ice cold water that could beat any refrigerated water! We sat there, on wood logs on the ground and it was then we noticed something like cow dung nearby. Sourath pointed out that it was not cow dung, but elephant dung and exploring a little bit more, we found path taken by the elephant/s crushing everything on its way to the waterfall! Holy cow! (or Holy elephant should I say?) We were at a place frequented by elephants to drink water! The calmness in us changed to alertness and we decided to get back to our trekking trail at the earliest! The girls even named the water collected from the stream as "aana vellam" meaning elephant water in Malayalam!
We resumed our descent and Sourath continued to share his knowledge on elephants and gave us quick instructions on how to escape just in case an elephant chases us. For the next 1 hour of the trek, Sourath kept us busy by sharing his deep knowledge about wildlife behavior and even quipped examples from his real-life experiences with wildlife during his college years! By 6 PM, the light had started to fade very quickly and we still had a couple of kilometers left to reach the pickup point.
 Though it became very dark by then, tactical flashlights which we took along came to our rescue in showing the path ahead! We had packed everything from a cigarette lighter to a swiss knife and even had a rope and hand-drawn map of the area, just in case someone falls into a gorge or gets lost! By the time the Jeep arrived to pick us, it was almost 7 PM and by 8 we were back at the homestay, ending a thrilling day of mountaineering and exploration!
The 7 of us decided to re-group for dinner and went to our respective cottages to get a hot shower and change clothes (which was all soiled by now!) Have to tell, the hot water bath after the trek felt like heaven! By 9, we were all back at the dining hall and after a stupendous meal which included specially ordered Non-veg dishes cooked in Coorg style (Abhijith, again settled with his Veg Cusine), we decided to try out the homegrown wine available there and ended up buying two bottles then and there! We all then went to an open space near one of our cottage, sat under the sky, sipping wine and talking and we ended up staying awake till 1 AM playing games and chatting about anything and everything until a caretaker came and asked us to get some sleep! Thanks to Abhijit for brining Chota Bheem Bedsheet which acted as our seat of discussion!  We were also joined by 2 homestay dogs, who stayed with us until we went to sleep!
Since we did not have anything planned for Sunday; the last day of our trip, I thought of sleeping late into the day!  However, when I woke up momentarily by around 6 AM, all I could hear was a melodious bird chirping all over the place and I couldn't resist myself to ignore it and go back to sleep! The other three were in deep sleep and I didn't bother to trouble them and headed out myself to explore the surroundings. I went for a walk in the plantation and soon was joined by our fellow Mallu girls who were also out for a stroll. We met the owner of the homestay during our walk and she talked to us a lot about coffee and its intricacies. The homestay has a wide variety of flora and the place looked so beautiful early in the morning!  By the time breakfast was ready, Sourath, Abhijit, and Arjun joined us and we all 7 took a walk to a nearby waterfall which is around 2KM from the homestay. There was hardly any water in the waterfall* and after spending a few moments there, we trekked back to the homestay and spent the remaining time talking to each other about our homes, family, and work.
*I had been to the place again a few months later during Monsoon and this time a full-fledged waterfall greeted me! The flow was so powerful, it was impossible to go to the base of the waterfall! 
The four of us left Honeyvalley by noon (lunch again from the same Kerala restaurant at Virajpet!) and since we hadn't done any prior booking for the return journey and there was no direct bus available at that time, we did Hop-On Hop-Off on every available bus en-route to Bangalore and finally reached back by around 10 PM.
The next day: Back to the cubicles, back to emails, back to Redmine and back to coding and curating.
Subscribe to my YouTube Channel:
Frequently Asked Questions on Tadiandamol
Can I reach Tadiandamol by Jeep?
The peak at Tadiandamol cannot be accessed by Jeep or even bikes and you will have to go by foot only. You can take your vehicle upto the ticket counter from where you need to start trek by foot.
Is the trek open throughout the year?
Technically yes. However, it will be extremely dangerous to trek during the monsoon as the path will be very slippery and filled with leeches as well. There are many boulders to be climbed on the way and these will be slippery during rainy season.
Best time to visit Tadiandamol ?
The best time to visit Tadiandamol will be during the season after monsoon (From August) until February. Avoid summer as it is going to be extremely sunny with no shade and avoid monsoon due to risky terrain. 
Is there a basecamp or homestay?
There are many homestays scattered around Tadiandamol, both budget and costly ones. I would definitely recommend honey valley homestay as your base camp to go to Tadiandamol. 
Is there a palace at Tadiandamol ?
There is no palace at the peak of Tadiandamol. However, on the way to Tadiandamol is the Nalnad palace (accessible by vehicles) where a homestay is also present which runs by the name "palace estate"
Is there an entry fee at Tadiandamol ?
Yes. There is a checkpoint just before the spot where trekking trail starts and you need to furnish your details here and take a ticket of 20 rs.