Most of us will know some peculiar places near our hometown which are beautiful picnic spots, but yet to become a mainstream tourist destination! "Madayipara" in Kannur district, Kerala is one such place which I would like to review here. Madayipara is a vast hillock known for its low elevation grasslands, laterite stone tops, ancient temples, a ruined fort and presence of rare species of plants, insects, and birds.
What to see/do at Madayipara?
For nature enthusiasts including ecology and environment researchers, this place is a must visit owing to its rich biodiversity. There are even new plant species identified from this place, like the Eriocaulon madayiparense and Lindernia madayiparense. Different varieties of plants including aquatic and semi-aquatic plants as well as the presence of some of the rarest plants of the world such as Nymphoides krishankesara, Rotala malabarica can be found here. Beautiful flowers of all imaginable colors spread across the place during monsoon season will be a treat to your eyes! One can also see a lot of birds, both native and migratory ones. The place also has a rich presence of butterflies and insects. A very detailed description of biodiversity at Madayipara can be found on the Wikipedia page about the place.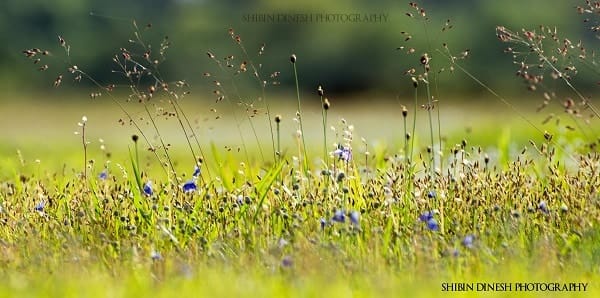 The place also has few famous temples in its vicinity like the Madayi Kavu, Vadukunda Siva temple, as well as a Kathiruvaykkum Thara, and a visit to these temples, can be included in your itinerary. Each temple has its own history to tell and it would be a good experience for you to explore them! There is also a small fort nearby, though I am yet to find it out! Will include more details about it in the next update! 
A majority of the visitors to this place include friends and families coming to spend an evening with their closed ones. The day I visited the place, there were a lot of people who have even come from far away places to spend their evening at the spot. They were randomly sitting at the place, talking to each other, taking selfies, laughing to jokes, couples walking hand in hand so on! So, this is a great place where you can spend some quality time, away from your hectic work life, breathing fresh air and refreshing your mind seeing nature!
You can walk around the place for hours if you decide to cover every nook and corner of Madayipara. I am yet to explore this place in detail so I will update this section after my next trip to this place.
Madayipara is a great place for photography including pre/post wedding shoot,  family portrait shoots as well as for nature photography, especially macro/close up photography. Presence of Butterflies, varieties of birds and insects, water bodies, temples, rock structures, countless types of flowers, an old fort, view of nearby mountains, grasslands, everything makes this place a photographers choice to spend hours here. 
Uncultured people continue to smash liquor bottles on the rocks endangering not just the fauna and flora but the fellow visitors. I wonder when such cultureless humans will learn to respect nature 🙁 Few people also leave plastic covers at the place before they leave causing pollution. Another major issue is anti-social people driving their cars or bikes on to the rocky terrain by deviating from the main road.  This causes squashing and death of the rare flower beds as well as insects and butterflies. Kindly refrain from any of the above activities! Do watch out for glass pieces as well as small snakes when you walk around this place 🙂 
Day time-wise, it's best to visit this place early morning or late evening when the sun is not that bright. Since the place has no shades (you can't even find any big trees) and the place is so vast, it will be very difficult to walk around this place when it's sunny. To add to your misery, even the rocks as well will start to heat up, hence it's best advised to visit this place in the morning or in the evening. Watching the sunset from this place can add to your experience. Regarding season, the place has its own beauty, be it summer, rainy or winter season, though the rainy season definitely brings out the picturesque beauty of this place. 
At Madayipara, there are no shops or restaurants and hence you would need to go to Pazhayangadi in case you need anything. There are few good local hotels at Pazhayangadi which serve typical Kerala/Kannur specialties which you should definitely try! Also. there is no restroom facility either at Madayipara which is a big drawback and I hope it is something the local Tourism dept need to take care of at the earliest.
You first need to reach a town called "Pazhayangadi ", from where a 2 km walk will take you to Madayipara. There are frequent buses to Pazhayangadi from Kannur city as well as from another nearby town Payyannur. There is a railway station at Pazhayangadi for those who would like to travel by train, though only local trains stop there. Once you reach Pazhayangadi, better take an auto (from Railway/Bus station) and will cost you around 30 bucks. For those who come by their own vehicle, immediately after the Pazhayangadi town (from Kannur side), a traffic circle approaches and you need to take a left from there to reach Madayipara.
 It's disheartening to see large-scale construction taking place around this ecologically sensitive area which will definitely affect the ecological balance of this place (I think some college is coming up and if that is the case then I am sure in 10 years this place will become barren land!). The place despite gaining attention as a common tourist location, no effort is done by the tourism department to conserve this place nor work on providing basic amenities to visitors. (at least nothing of the sort that is visible on the ground!) Hope that changes soon.
Frequently asked questions on Madayipara
No. Madayipara is an open space and there are no entry fee or any other checkpoints at Madayipara.
Is madayipara always open ?
Yes. You can access madayipara throughout the year and the place looks different in each season. 
No. However, post sunset, it will become very dark (limited street lights) and chances of hooligans are also likely. Hence avoid the place post 7 PM. 
Are there restaurants around ?
You need to go to a nearby town called "Pazhayangadi" to get any food or any other basic necessities.