Karuna Farm, also known as Karuna Dham is a homestay model farm with multiple accommodation options from huts to proper homes. Located about 14 km from Kodaikanal, Karuna farm is considered as one of the best places to experience nature in its truest form. This place is not the cup of tea for everyone, has shortcomings of its own and some people may even find this place uninhabitable. Read my full review to know the details! If you have any questions, please ask them in the comments section below. A video is also added at the end of the article.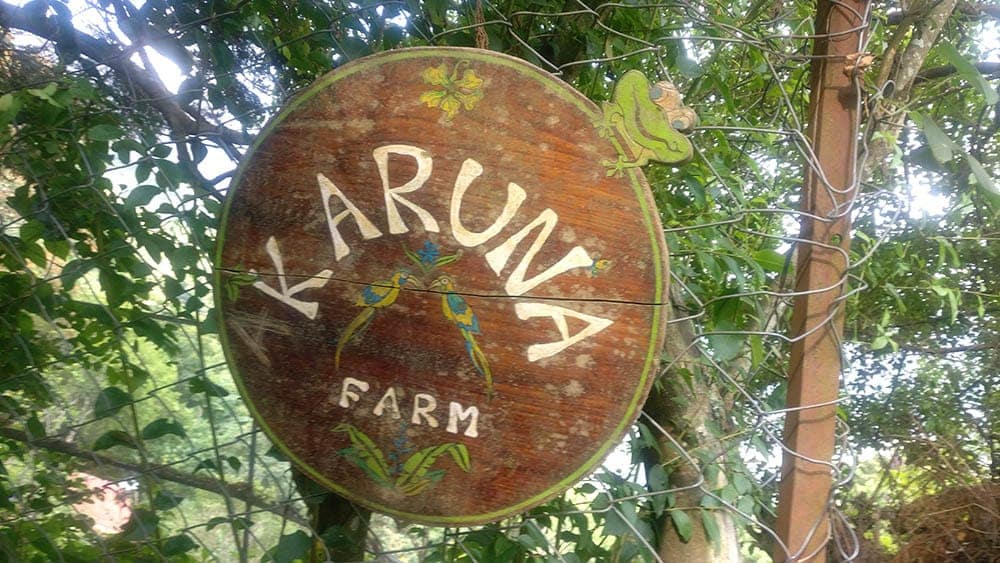 Is Karuna Farm the right place for you?
Imagine this.
 No proper electricity (place runs on solar), no mobile range in most of the areas, high chance of seeing all kind of creatures like rat, frog, wild lizards, moths, stray cats and dogs and even snakes in your home/room,  non-existent room service, you need to self-cook (or rely on exorbitantly charged restaurant food) , thankless management, outdoor toilets/ no hot water facility, homes and rooms that resemble village life. Are you okay with all these? If NO is the answer for the majority of the cases then this is not the right place for you.
But before you take a decision, imagine the following as well: 
Rooms/cottages with full view of majestic mountains, isolated cottages with highest level of privacy, happiness of self cooking and eating in the midst of forest, chilling cold early mornings and nights, a mesmerizing waterfall and a small natural pool, the pleasant sound of nature like the melodious bird chirping and absolutely ZERO artificial sounds, star-studded night sky, countless trekking trails, the satisfaction of living a life as if it was the 1900 s.
This is what Karuna Farm can offer you. So, if the positives outweigh the negative and if you aren't adamant about "I paid for this place, so I expect to be taken care of "  I would surely recommend you to try living here for a couple of days.
Since Karuna Farm is located way away from the main city and is situated on the mountainside, the only way you can reach here is either via off-road Jeep service or by walking about 3 km from the nearest point where you can park your vehicle. If you are coming by your own vehicle, you have to park your vehicle at a place called Prakashapuram and then chose either of the above options. If you are coming by public transport, you can hire the Jep from Kodaikanal town itself. Though the Karuna website says about taking a bus from Kodaikanal till Prakashapuram, there is only a single bus that doesn't ply most of the day. Hence the most economical way to reach Karuna Farm, in my opinion, is to call the Farm suggested Jeep service that charges you 500 INR one way. Cabs from Kodaikanal charge you 800 INR until Prakashapuram, but the jeep charges only 500 bucks till the farm, irrespective of the number of people (max 5). However, there are only 2 jeeps which service to Karuna Farm, so make sure to call them in advance as one way trip takes 45 minutes to 1 hr and hence if they have just started a trip it will take them about 2 hours to again reach Kodaikanal town. You can contact the Jeep drivers Lakshman at 09865762318.
There are more than a dozen types of stay options at Karuna Farm and the built quality, comfort level and amenities of these rooms vary considerably with the price they charge. You have options from simple single room huts to cottages that can accommodate 5 to 6 people. Few of these rooms will be always occupied by people who stay there for an extended period and hence you may have lesser options to choose from. The full list of rooms with their details can be found at the end of this article. When selecting rooms, I would suggest you to choose rooms that have proper structural integrity, attached bathrooms, and solar water heating, but these are the ones with a higher price point. However, if you are in for the highest level of adventure, feel free to choose rooms that have basic amenities, sheet roofing and some of these rooms are very far and deep in the forest and gives you a feeling of literally living in a hut!
Keep in mind that this place is not a hotel and there is no concept of room service here. Hence you are on your own once you reach your room. Even toiletries like toothbrush or soap or even bath towels are not provided. There is no hot water except for a couple of rooms, but since the cooking stove is present, you can heat water and use! As far as I know, every room at Karuna farm is equipped with a kitchen, though the facilities in the kitchen vary from room to room. Some rooms have a kitchen outside the cottage, some have single burner stove, some kitchen has more cooking utensils and more space like that. Most of the rooms have solar power panel installed and hence you will get enough electricity to charge your phones and for a couple of lights. There is no television, no WiFi, no phone, no fan, no AC, no electric kitchen appliances or any other facilities you usually find in a hotel room. They do provide bed sheet and blankets, though they are not stain-free!
Though the place has a restaurant (Govinda's Kitchen), the place prefers you to cook on your own. Breakfast is included in your stay but the options are limited. You have to eat whatever is provided on a particular day and there are no options to choose from. Lunch and Dinner are also served but at a very high cost (Lunch is 150 and dinner around 300). The lunch and dinner are not worth the money they are charging and the quantity they provide. More than the money factor, you need to literally trek in order to reach the restaurant. Since the rooms are well spaced out and hence situated far from the restaurant, you will have to walk about 5-10 minutes to reach the restaurant and by the time you reach back your room, your food will get digested!
I had selected the "Shiuli House" for my stay and this place is located at about 15 min walk from the entrance of the farm. This is a beautifully built 2 room home with a kitchen and a bedroom. The house is stone built, glass windows covering a large area and sheet roofing. Solar power is there for charging and lights but no solar water heater. Even before entering the house, I was awestruck by the view of the mountains from the spot. You get a clear view of layers and layers of mountains right in front of you! Coming to the home, the door opens to the kitchen and to the right is another door to the bedroom. Just beside the main door, the entire wall is glass windows with a small cot next to it giving you a great place to rest and enjoy the mountain view outside. There are 2 fireplaces in the home, one in the kitchen and one in the bedroom but both are rusty and looks non-functional. The bedroom had a double bed, a table, a small cupboard and 2 large windows which again gives you a proper view of the surroundings. There are no curtains on the windows, so couples, be careful! 😛 The kitchen also leads to the shower room and toilet which are separated by a small wall (but common door). The toilet is western style and was clean.
Waterfall at Karuna Farm:
For me, the most serene spot at Karuna Farm was the waterfall and natural pool. There are no signboards or any proper path that leads to the base of the waterfall and hence you need to ask the caretaker at the farm about the route. You can hear the waterfall from the dining area at Govinda restaurant but proper visibility is blocked by trees. On taking a 5-minute walk from the Govinda restaurant through a narrow path you reach the base of the waterfall where a small natural pool is formed. The place was dark, cool and calm! To add to the beauty you can even see the mountains from that spot and thus offer you a truly mesmerizing experience. The waterfall was strong enough even in summer and it made me how beautiful it will become during the rainy season!
The place has serious shortcomings when it comes to maintenance of the properties. As pointed out by many reviews on travel sites, the management does not show any interest in keeping the place in order. The rooms are not clean (I myself had to ask for a broom and clean the dust from the room), there is no signboard on how to reach the reception/restaurant and you will for sure get lost as there are no roads and only narrow paths at the farm. The caretaker is always high on weed and doesn't understand half of the things you say to him. They even make you pay the full room rent in Cash the moment you arrive.  
Coming to the maintenance of the room, the kitchen roof was leaking during heavy rains, the front door and side window had glass missing, effectively allowing creatures to crawl into the room at night or when you are out. There were no curtains on any of the windows effectively nullifying the privacy factor. There were rats, snake, wild lizards, moths and frogs inside the house, making it a risky place to survive. On the last day of my stay, I was shocked to see a snake crawl into the roof of the house I lived in (probably to catch the rats that live on the roof!), luckily for me I was checking out that day! Though these were the issues with "Shiuli House" room, it's highly likely that the same issue will be there for rooms that are cheaper than Shiuli house. 
Pets/Animals at Karuna Farm:
Karuna Farm does not allow to bring your own pets to their property. However, there are 2 dogs and 2 cats at the place that walks around the entire farm and is very friendly. I felt the cats are a bit over friendly, as they jump onto you and try to rest on your lap on every chance they get! I also had a glance of a giant flying squirrel near the entrance of the farm, but couldn't photograph it. There are a wide variety of birds and an early morning walk will definitely won't disappoint bird enthusiasts.