Honey Valley Homestay is a perfect getaway location if you are looking for a place to blend with nature. Visiting the Coorg valley should be on everyone's to-do list and there is no better experience than finding a place inside the valley, right at the base of Mt. Tadiandamol, the third highest peak in Karnataka. Honey Valley Homestay checks all the boxes when it comes to a comfortable stay and a memorable experience.
I first visited Honey Valley Homestay with my friends during our trek to Mt. Tadiandamol and about 6 months later, I took a solo journey exclusively to Honey Valley Homestay to enjoy the Monsoon rains in its full glory.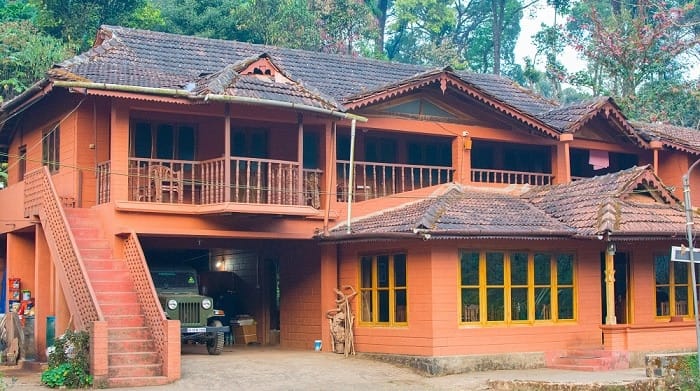 Reaching Honey Valley Homestay:
Honey Valley Homestay is located deep inside the evergreen Coorg forest and is located at the base of Mt. Tadiantamol. The homestay is around 24 km from Virajpet and around 30 km from Madikeri.
From Bangalore, you can take the air-conditioned  KSRTC Volvo buses to Virajpet (or even Rajahamsa buses depending on your comfort requirement), and from Virajpet you can either hire an Auto (350-400 rs) or even go by local bus (25 rs), both will drop you till Kabanikkad Junction. From Kabanikkad Junction, the homestay will send their own Jeep to pick you up and drive to the location which is another 3 km from Kabanikkad. Even if you are coming by your own vehicle, you will have to park your vehicle at their designated parking space at Kabanikkad Junction and then take their 4 X 4 Jeep service to reach there. If you have a 4X4 then you can inquire with the homestay, if you can take your vehicle up, but be advised unless you are an experienced driver, it will be extremely difficult to traverse that final 3 km. There are some jeeps which will drop you all the way till Homestay from Virajpet and usually charge 1500 rs. 
The rooms at Honey Valley Homestay:
The USP of Honey valley is its closeness to blending with nature. The property is actually inside a coffee plantation and surrounded by thick vegetation. Keeping this in mind, all the rooms/cottages are built with a classic Indian architecture (using clay bricks, non-concrete roofing, non-tiled floor) and does not have facilities like air-conditioning, WiFi or even a TV in the rooms. You will find wild moths, spiders and all in the rooms which is common since the premise is inside thick vegetation. Different types of rooms are available and the complete details including tariff can be found on their website. They do provide hot water in the bathrooms through solar heaters and hence during rainy seasons, the water may not be hot to your liking! There is no room service and the food is served at a common dining hall. The rooms are not at all soundproof, and hence if you are planning your honeymoon there, do keep this in mind 😛 . When I stayed with friends as well as during my solo trip, I could easily hear all the conversation from the neighboring rooms, in fact during my first trip, we were talking to each other across rooms!
Best time to visit Honey Valley Homestay
Though the property is open almost every day of the year, the best time to visit Honey Valley is in Winter or Rainy season. Coorg is usually a cool place, but our climate is changing so fast that even in Coorg, despite being inside a forest, summer will not be a good time to enjoy. Winter season is the prime time when travelers flock to Coorg and Honey valley is no exception. However, I would suggest a visit to Honey valley during the rainy season to enjoy the monsoon in its full glory. Sipping a cup of hot coffee and looking out from the Verandah into the hills is truly a memorable experience!  See below a video of how beautiful monsoon season is from Honey valley homestay. 
Monsoon at Honey Valley homestay
Food at Honey Valley Homestay:
As a house rule, you need to inform the homestay in advance if you need food (breakfast, lunch, and dinner). The food is served in a  buffet model and has fixed pricing. Most of the dishes are really tasty but many may find it bland (they make it purposefully because of the high number of foreigners visiting the place). Though it is a  buffet based system, the food options are limited. For breakfast, there will be a south Indian dish (Dosa/idli/or anything like that) and an English breakfast (Bread- butter- jam) along with fresh cut fruits and a choice of coffee/tea.  For lunch and dinner, you will have a couple of rice items with curry and is also served as a buffet type.  They also prepare special non-veg dishes like chicken and pork on special request and is priced extra and also has to be informed in advance. You can order egg omelets as well, though I found it a bit overpriced at 50 bucks for a double omelet!
Waterfall at Honey Valley Homestay
One of the selling points Honey valley has is the presence of a waterfall at their property. The waterfall is located almost 3 km from Honey Valley and is close to the Chingara homestay (Premium homestay from Honey Valley) and is also known as Chingara waterfalls. During summer, the waterfall dries up, but in the monsoon season, the place is heaven! Though they advertise the waterfall to be a private one, I have seen travelers from Tamara resort (a 5-star resort nearby, costing 10 times more than honey valley) also coming and visiting the waterfall. You can see the beautiful waterfall in the video below.
Stargazing at Honey Valley Homestay
Honey Valley Homestay is an excellent place for Stargazing. The sky is free of any pollutants and hence you get a crystal clear view into infinity! As long as it is not cloudy, you should be able to see the Milkyway in its full glory from here at night! During my second visit to Honey Valley Homestay, I had spent almost an hour, just looking at the night sky! I still regret not capturing the night sky despite having an SLR with me ( I messed with the settings). Given below is a night sky image which I managed to capture. 
Animals at Honey Valley Homestay:
The property has 4-5 dogs and can be seen wandering around the home stay and rests most of the time beside the main building.  These dogs accompany you to nearby treks and may even come with you all the way to the top of Tadiandamol! On reviews on travel sites, I have seen people complaining about these dogs  as they are freely wandering within the property and even comes to the dining room. So, if you are someone who has such issues, keep this in mind. Being a dog person myself, the presence of dogs at honey valley was a plus point and not a negative, but I am sure many will find it as a discomfort. The website of Honey valley warns that there might be occasional sighting of wild animals like elephants or bear inside their property. 
How to book a room at Honey Valley Homestay coorg:
This property does not offer any online booking option and cannot be found on any hotel aggregators like Yatra or Make My Trip. Their official website also does not take online bookings. Hence the only way to book a room is to call the owner/manager over phone, enquire room availability and then do a booking over phone. Once you confirm your stay, they will SMS you their bank account details to which you should transfer the money. This is how the booking happens. You can find more details on their website here.
The Homestay team has created a beautiful infographic PDF which will help you decide if the place is a right choice for you. You can see the PDF here.
Address and Phone number:
Honey Valley
PO Yavakapady, Coorg (Kodagu),
571212, Karnataka, India
Ph: 81974 44939
08272 238 339
08272 238 888