Ezharakund waterfalls (Ezharakundu, Ezharakkundu) in Kudianmala, Kannur is becoming one of the most popular tourist destination in the district and is attracting tourists from all around. Maintained by the District Tourism Promotion Council (DTPC), this place is a paradise for nature lovers. 
What makes this waterfall special is that this is not a single waterfall, but a group of seven waterfalls ! Ezhara in Malayalam means seven and half and kundu means pit or dip and thus, as the name suggests, Ezharakund waterfall is a group of  seven (and a half!) waterfalls spread across more than a kilometer long riverside.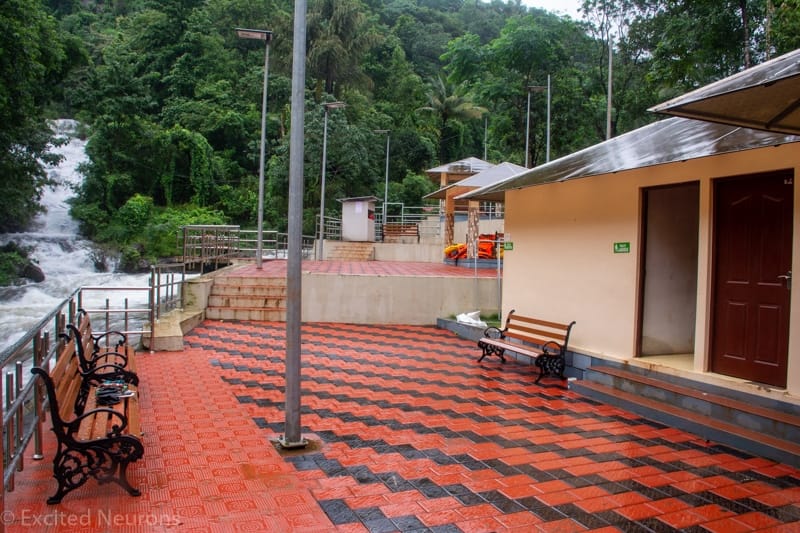 Once you reach the base station/ facilitation center, you first need to purchase the entry ticket which is priced at 100 rupees. The "base station" is the start point of what will be around 3 km two side journey along the river covering all the  waterfalls. Though 100 rupees may sound a bit overpriced, you wouldn't feel the same once you complete your trek. For digital cameras you need to purchase an additional ticket for sixty rupees,  mobile phone photography is free though! You will be accompanied by guides throughout the journey and there are about 25 staff working there to help you navigate the place. You are also required to wear safety gear like helmet and life jacket which will be provided to you. 
Once you start your nature walk, you will be greeted with waterfalls of different intensity, size and beauty every now and then. The DTPC has done a great job in creating a beautiful walkway with safety railing as well allowing you to enjoy the ferocity of the river up-close yet safely. When the flow of water is less intense, they even allow you to get into the water and have fun! When I visited, it was raining so heavily that the river was overflowing and so intense, the authorities were not allowing anyone to get into the water.  
After walking for about 1.5 km, you will reach a spot where you can see the beginning of  the waterfall. The sight of the waterfall from that point is so beautiful that even Athirapally waterfalls looks ordinary. You can go really close to the waterfall, but the force is so strong that you will be sprayed with water all over!  After you spend a reasonable time there, you need to back trace the journey to the base station. All in all it will easily take more than an hour to complete the round trip.
A video journey at Ezharakund Waterfalls
The base station has clean bathrooms and changing rooms in case you need to change your clothes. They also serve nice coffee priced at just 10 rupees and you wouldn't want to miss it after an hour long walk in the cold and rainy climate! There are couple of benches where you can sit and see the waterfall. They have made makeshift car parking arrangements near the entrance and can accommodate around 6-8 cars at a time.